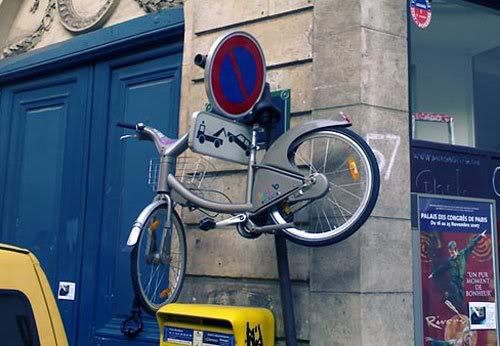 The free bicycle system - and the contract with JC Decaux - is still fuelling the political debate in Luxembourg City. Some of the MUPIs (Mobilier Urban pour l'information) were removed, and it seems that others will follow, because their location was said to be dangerous for traffic visibility. A written approval from the Ministry of Culture is also missing, according to the opposition. "This fairy tale comes from people who have no clue about public tenders", says the City Council.

The result of all this is obvious: the City will have to loose a lot of money to honor the contract with JC Decaux, and the opposition will have a very good argument for the coming election, although they don't seem to have any solutions or a positive attitude towards pollution or traffic increase (the bicycles are not to supposed to solve any traffic or pollution problems, they're just a very good way to start changing, to say "we care, we are aware of the problem, we are doing something"). This Friday the City Council will present a preliminary study for a Plan d'aménagement général that will deal with a foreseen increase of residents, jobs and number of cars entering the city everyday. First councillor François Bausch (from the Greens, and best known for putting his money where his mouth is: I'm not the only one to see him cruising trough the city in his bicycle almost everyday) said that by 2020 the Council expects to have tripled the offer of public transportation and doubled the numbers of soft mobility (walking, cycling).

More comments (in French) here and here.